Hello everyone. If you haven't heard I'm yet again organising Chip Bit Day and it's in its 4th year. I never thought I'd do another one after 2016, but here we are. As with all my Chip Bit Day articles, I will be showcasing each artist who is playing whilst picking a track that I think properly defines them. If you are interested in donating to Chip Bit Day you can do so by following the link here.
---
Monodeer
We kickstart this showcase off the first of Chip Bit Day's headliners, 'Monodeer'. His style mainly focusses on creating hard hitting chipbass bangers whilst using LSDJ as the power. Based in 's-Hertogenbosch, The Netherlands, 'Monodeer' got into the chipscene after witnessing DJ Scotch Egg at festival, playing on a single gameboy. Although 'Monodeer' has released a few albums, I feel the best song that describes him is his track, 'FAYA', from the EP, 'FAYA/SELECTA EP'. For me it is one of the hardest hitting tracks from his repertoire, complete with a fantastic build up and sharpest bass heard from the chipscene.
Facebook | Soundcloud |Bandcamp
---
STU
The 2nd of our headliners comes all the way from Basel, Switzerland, 'STU'. An OG of the chipscene in 00s, STU utilises the sound chip of the Atari ST, the 'YM2149'. For the software STU uses 'Musicmon' by Darkangel as the basis to create his music. Whilst STU has released a lot material over the past decade, I feel the track 'Escape' his most recent release on, 'Escape/Return EP' really speaks volume towards his style. The sound produced across the entire track is well defined as various different hardware is used. For example; STU modded his Atari with some analog filters, what he calls 'the YMixer and a few other things like a 303. For me 'Escape' feels like a flash back to old 90s dance such as Fatboy Slim, an artist who really influences some of my own music.
---
HarleyLikesMusic
Back for a third time at Chip Bit Day, HarleyLikesMusic returns for some more underground chiptune sweetness. Almost every man and his DAW knows Harley, however if you haven't heard, HarleyLikesMusic creates underground chipbass using LSDJ on a gameboy SP. Although Harley's music is as heavy as Monodeer's, the former's style is very technical and requires something more powerful than a DMG Gameboy. Some of the sound design has been pioneering for the chipscene, with a lot of LSDJ musicians adopting some of Harley's tricks. For my pick track I decided to go with the all time favourite, 'Get The Bleach', from 'Gamechanger' (released by 'Cheapbeats'). A classic from Harley's repertoire, it was one of the first tracks he worked on when making the change to LSDJ. It contains the basis for Harley's experimentation into manipulating samples, with a great example being his imitation of the 303 sound!
HarleyLikesMusic | Twitter | Facebook
---
PROTODOME
This artist is quite close to my heart as 'PROTODOME' was one of the musicians that got me into chiptune music. An OG of the scene, 'PROTODOME' style involves a blend of chiptune, jazz and funk. To do this he utilises a variety of different hardware & software from a launchpad with FL Studio, to a NES and gameboy. Out of all PROTODOME's music, I believe the best song that really defines his music has to be 'New York Cheesecake'. This is mainly because whilst it extremely accessible to everyone in and out of chiptune, it is also a sound track, complete with beautiful melodies and bright tones to boot!
Protodome | Bandcamp| Soundcloud
---
Shortee
I recently gave a glowing review over his latest album, 'Lost', but when 'Shortee' (based in Germany) contacted me with great interest in playing, I jumped at the chance. I absolutely loved his unique style, blending vinyl scratching against the humble bleeps and bloops of the gameboy and it works so well. The best track that I think represents 'Shortee' is 'Guten Morgen'. The best introduction to Shortee's style, it contains a balance of chiptune and DJing, with the utmost skill heard from his vinyl scratching. It really reminds me of an early DJ Shadow, where he focussed more sampling and scratching.
---
Dirty Clide
Someone who I've performed with a few times already, 'Dirty Clide' is a chiprock musician based in Crewe. An old school gamer since the 80s and involved in the rock scene for over 20 years, 'Dirty Clide' recently started to include his love for videogames into his music, using a guitar, pedals & an Ipad. As well as that, he has also set up his own chiptune event, 'Let's Get Chipfaced'. My pick track for 'Dirty Clide' is the song 'Game On' which both shows influence from the styles of 'Nirvana' and 'The Prodigy'. Dirty in the bass and sharp with the guitar, 'Game On' invokes the nostalgic feelings of the 90s that seem to be missing from modern indie music.
Soundcloud | Facebook | Youtube | Bandcamp

---
Nyokee
Originally from Germany but now living in Surrey, UK, Nyokee creates chiptune pop music. This is done through using a gameboy synced up to arduinoboy into Logic Pro as well as various other software; however When live Nyokee uses Ableton and Midi controllers. Nyokee played her first chiptune gig at the CBD pre party last year, and found the community extremely inclusive. After that she began to play more chiptune & anime conventions, building a big fanbase. Her latest track, 'Criminal' best defines her style. Like 'Dirty Clide' she sings, too. However, Nyokee does more of a blend of both singing and rapping. It reminds me a lot like 'Newwave' artists, like the 'Human League'. 'Criminal' itself feels really bouncy and boppy, and whilst I didn't quite get it, I quickly became hooked by the catchiest and the fantastic melodies provided by Nyokee.
Nyokee Website | Youtube | Facebook
---
Jellybear
I've known about Jellybear for a long time. In fact, I reviewed his first album when Chip Bit Sid was first starting out. Hailing from Bristol, 'Jellybear' creates a fusion of chiptune mixed together with speedcore, gabber hardtek and pystrance. Whilst he has been making music for a while, this will be Jellybear's first ever gig! From then on he'll be performing Chipwrecked at Bornholm this year. Whilst 'Jellybear' has music through a lot of different styles, I feel the best track that shows off his creativity is the song, The Great Bear. It was created for a compilation called, 'NOT OTAKU'.Immediately, the energy from 'The Great Bear' feels immense and is super fast. The melodies are both bright and sharp, full to the brim with character. An excellent song, 'The Great Bear' both shows great prowess and what 'Jellybear' will bring to his set at 'Chip Bit Day' and 'Chipwrecked'
Twitter | Facebook | Youtube | Soundcloud
---
Myths & Monsters
My partner in crime for 2019, Myths & Monsters has been making waves with LSDJ and MIDI. Those who haven't seen his countless videos and tutorials showing the power of LSDJ through MIDI. Based Manchester, Myths & Monsters has been up and down the country, performing with an huge rack made up of countless synths. His music is based upon 80s horror music as well as synth bands of the 70s and 80s. My pick track for 'Myths & Monsters' has to be his latest track from his soundcloud, 'Walk With Me'. It begins with a fantastic bassy introduction by a volca keys before going into a lovely, spooky melody comprised by LSDJ. Haunting but also quite harmonious and beautiful, 'Walk With Me' sums up perfectly what 'Myths & Monsters' is about.
Instagram | Soundcloud | Facebook
---
Kojin
We finally come to the last artist- me, Kojin. Whilst I haven't released much material I am saving this all up for an album that I am working on, and it's very nearly finished. I hope to have completed by June. In the meantime here's a track called, 'Love Is Beautiful' that I've saved for the compilation.
Facebook | Twitter | Soundcloud
What a line up! I hope you're as hyped as I am! As usual I'll be raising funds via indiegogo, selling tickets, a compilation and t-shirts. This year however I'll be printing an extra exclusive t-shirt cut from iridescent foil vinyl by yours truly! Hope to see you there!
CBD 2019 Facebook Event | Pre-Party Facebook Event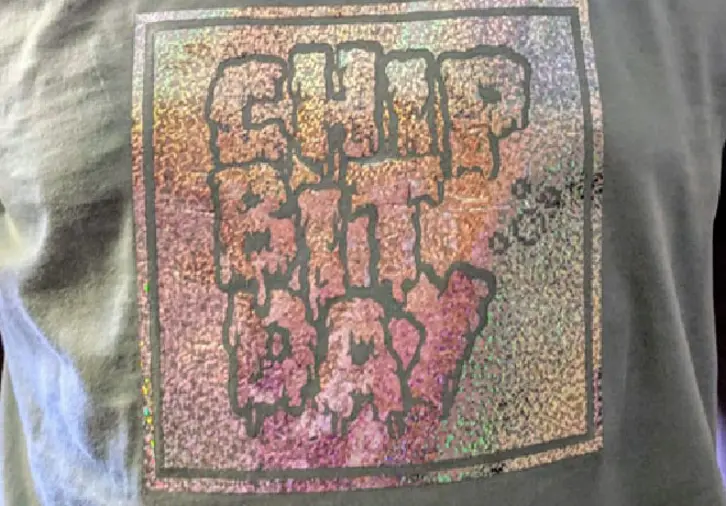 ---
This has been a blog post from Chip Bit Sid, a UK based Chiptune Blogger. Along with monthly features here on The ChipWIN Blog, I post once a week on my own blog. To get in touch, please message via the social media links below! I also do my own music under the banner as 'Kojin'.
Blog | Twitter | Facebook | Kojin | Soundcloud